La Galette des Rois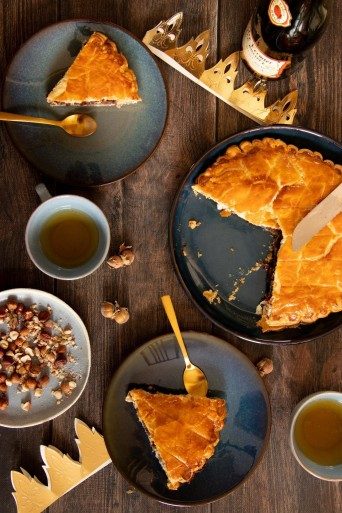 On Sunday 9th of January at 3pm at ARC Cafe Connect 52-54 Macnamara St, Manunda, join us to celebrate "La Galette des Rois". We will be enjoying this lovely cake with some tea and coffee. Bring some board games and we will all play along.
Tickets are $10 which include a slice of Galette des Rois, a tea or coffee and a chance to be the king or queen!
So what is Galette des Rois?
The French have been serving up galette des rois since the 14th-century. Traditionally, it's served on January 6th – the 12th day of Christmas – to celebrate the Epiphany, a religious feast day commemorating the arrival of the Three Kings to the manger where Jesus was born. Today, it's eaten throughout the month of January and is simply a festive way to celebrate the new year with family and friends, regardless of religious background.
You'll typically find two basic styles of galette des rois: In northern France, it's made of pâte feuilleté, puff pastry, and stuffed with a dense, creamy almond paste called frangipane. In the south of France, you'll be eating a brioche-style cake covered with candied fruit. Other variations can be found as well, from shortbread-style, popular in Western France, to those that have alternate fillings, such as chocolat-poire (chocolate-pear) or raspberry.
Tradition dictates that when serving galette des rois, the entire cake should be divided such that each guest receives a slice, plus an extra, symbolic slice for any unexpected visitor, or poor person, that should pass by. In this way, everyone has the opportunity to "tirer les rois," – or "draw the kings" – from the cake.
The "king" is represented by the fève, once a fava bean, now a porcelain or plastic figurine, hidden inside the cake. The person who discovers the fève in their serving is declared le roi (the king) or la reine (the queen) and gets to wear the golden paper couronne (crown) that comes with cake. In some families, le roi or la reine gets to choose a royal counterpart and is tapped to buy the next galette des rois.
Kids and adults alike can get surprisingly enthusiastic about the winning of the fève – many people collect them – and playful accusations of cheating might occur. To avoid this, it is traditional during the slicing of the galette to have the youngest child at the gathering slip underneath the table to call out the name of the person to receive each slice so the server can't be accused of playing favorites!