Order a course
Your previous selection: Term 4
Only 1 course available for this selection
Pre-intermediate (A1.4)
Product Code: 2018PIN4 2018

Age Group
Adults
Session
2018 - Term 4
Pace
2 hours / week over 8 weeks
Duration
16 hours
Level
Pre-Intermediate (A1.4)

Schedules
17 Oct 2018 to 05 Dec 2018

Wednesday - 6:00pm to 8:00pm at Cairns State High School (Sam WETERKAMP)
A valid membership is required in order to enroll in this course
Objectives
Pre-intermediate A1.4 Level
This course is for students who have completed level A1.3 (Beginner continuous) or who have been assessed prior enrolling.
In this class, students will continue to develop a solid foundation in French by completing the last three folders of the comprehensive textbook Cosmopolite 1. You will learn how to:
use the future
talk about directions
talk about the weather
do shopping
use a new form of past
describing an event you have been to
talk about food

Your teacher will give you authentic situational exercises introduce you to the structure and use of the French language in everyday life so that you can have simple conversations with native speakers. By the end of this course you will have completed the Textbook Cosmopolite 1. Completing this course will allow you to get the certificate A1.

Required Course Material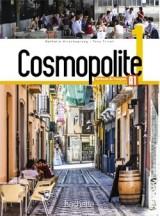 Cosmopolite 1 + workbook
French language and culture through real life situations shared by French, francophone and francophile people around the world. Using a clear structure - 6 double page spreads per chapter - the course adapts to different learning speeds and takes an inductive and in-depth approach to language learning. Students actively discover a variety of authentic resources including class projects and a project looking at the world as a whole. Each chapter in the course includes a "Cultures" lesson drawing on different media to enrich the topic and provide additional material for the class project. The workbooks follow the progression of the coursebooks and include an audio-CD along with transcripts of the audio material and a separate answer booklet. The teachers' guides contain worksheets for each lesson with teaching tips and techniques, revision and supplementary exercise sheets, tests and answer keys. The class CDs contain all the audio material from the student's books, workbooks and the teachers' guides (oral comprehension and evaluation exercises). The student's books give access to the "parcours digital" which offers self-correction exercises to accompany the course material. The interactive student's book includes the coursebook, workbook, audio and video material. The interactive teacher's book also includes 50 activities for use with an interactive whiteboard and is compatible with PC/MAC, iPad and Android tablets
$220.00

AUD
Approx $160.51
USD