Order a course
Your previous selection: TAFE - U block - 3rd Floor
Only 1 course available for this selection
Upper beginners Term 2 - 2021
Product Code: 2021UBE2 2021

Age Group
Adults
Session
2021 - Term 2
Pace
2 hours / week over 8 weeks
Level
Upper Beginner (A1.3)

Schedules
04 May 2021 to 22 Jun 2021

Tuesday 6pm ▸ 8pm at TAFE - U block - 3rd Floor
Note: Upper Beginner A1.3 Level

This course is the continuity of the Beginner continuous course (A1.2). You can enroll in this course after 2 terms of French.
Speak French from day one! Build a solid foundation in French with this comprehensive introductory French immersion programme using Cosmopolite 1 textbook and workbook including 500 online exercises to practice in the comfort of your home and an Application. Authentic situational exercises introduce you to the structure and use of the French language in everyday life so that you can have simple conversations with native speakers. The Beginner A1 level programme can be achieved within 3 terms.
A valid membership is required in order to enroll in this course
Required Course Material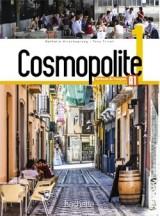 Cosmopolite 1 + workbook
French language and culture through real life situations shared by French, francophone and francophile people around the world. Using a clear structure - 6 double page spreads per chapter - the course adapts to different learning speeds and takes an inductive and in-depth approach to language learning. Students actively discover a variety of authentic resources including class projects and a project looking at the world as a whole. Each chapter in the course includes a "Cultures" lesson drawing on different media to enrich the topic and provide additional material for the class project. The workbooks follow the progression of the coursebooks and include an audio-CD along with transcripts of the audio material and a separate answer booklet. The teachers' guides contain worksheets for each lesson with teaching tips and techniques, revision and supplementary exercise sheets, tests and answer keys. The class CDs contain all the audio material from the student's books, workbooks and the teachers' guides (oral comprehension and evaluation exercises). The student's books give access to the "parcours digital" which offers self-correction exercises to accompany the course material. The interactive student's book includes the coursebook, workbook, audio and video material. The interactive teacher's book also includes 50 activities for use with an interactive whiteboard and is compatible with PC/MAC, iPad and Android tablets
$240.00

AUD
Approx $184.08
USD